Lightsky Citrus wheat
LightSky Citrus wheat can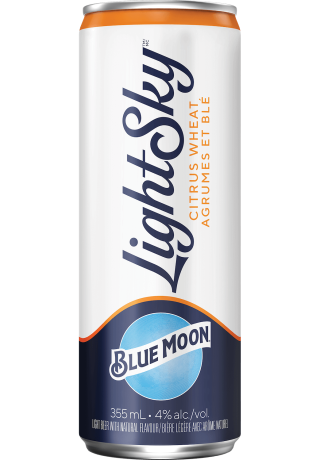 Formerly known as Belgian Moon, LightSky is a light and refreshing wheat beer, brewed with real tangerine peel for a lighter, exceptional taste at only 100 calories per 355ml. Perfectly balanced and crisp, this beer is light, refreshing and sessionable while still delivering an authentic citrus fruit aroma and taste at 4% ABV.
Taste Profile
Brewed with real tangerine peel that brings forward a sweet citrus character. Perfectly balanced with a subtle malt sweetness and a hint of bitterness, this light profile makes for an enjoyable, easy-drinking experience delivering the quality and punch of citrus flavour expected from Blue Moon.
Food Pairing
Blue Moon LightSky pairs well an array of foods that have both an existing citrus flavour as well as some spicier dishes. Food pairing ideas include summer salads, street tacos, chicken skewers, and seafood.