Mango Wheat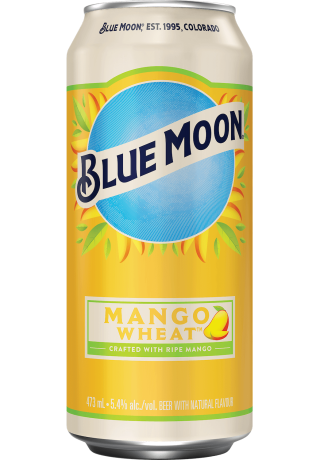 Formerly Belgian Moon, Blue Moon Mango Wheat is a refreshing wheat beer with ripe mango flavour balances with a light biscuit maltiness, wheat and hints of honey with a 5.4% ABV.
The Belgian Moon Mango Wheat was inspired by the beaches of Mexico where vendors sell freshly cut mangos on-a-stick to enjoy under the warm tropical sun. Mango Wheat was brewed to be as refreshing and flavourful as the taste of those ripe mangos on the beach.
Taste Profile
Mango Wheat is crafted with mangos and a hint of honey for a bold wheat and biscuity malt sweetness with a bright yellow-orange colour and cloudy wheat haze.
Food Pairing
Bursting with mango flavours and aroma's, the fruit ale helps to bring out the sweetness and spice in dishes like shrimp or chicken with mango salsa, curry and French vanilla ice cream.
Awards
Blue Moon Mango Wheat won the Silver Medal, Fruit Wheat Beer Category at the 2016 Great American Beer Festival®